Scale FABRIC Flags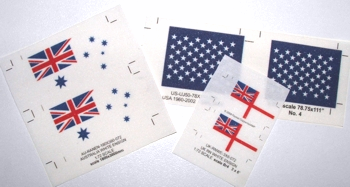 Every AMP Flag Set comes with 2 Flags
AMP uses superior technology and methods to manufacture crisp, durable, accurate, double-sided scale fabric flags. These are NOT your average flags!
---
Compare AMP flags to Others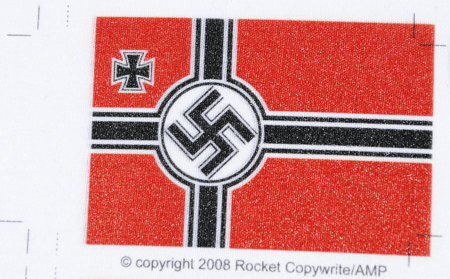 AMP Kriegsmarine flag with Bleed & Trim for easy cutting and professional results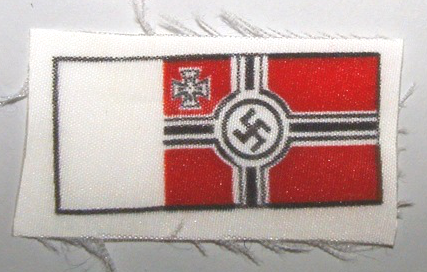 other brand with thick black border: hard to cut and lousy result. Note how easy edges fray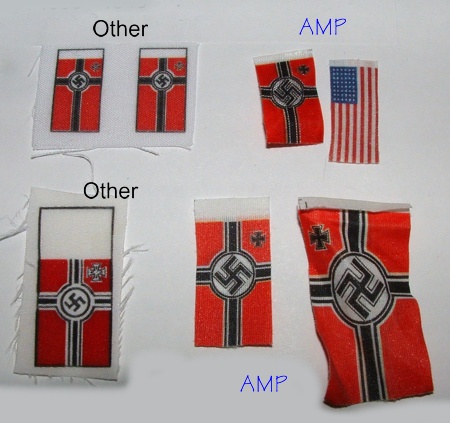 Two flags from two different UK manufacturers, compared to AMP flags
NOTE: We use the Kriegsmarine flag as a sample because of the Revell VIIC kit popularity. See our note about History & Politics in Contact Us.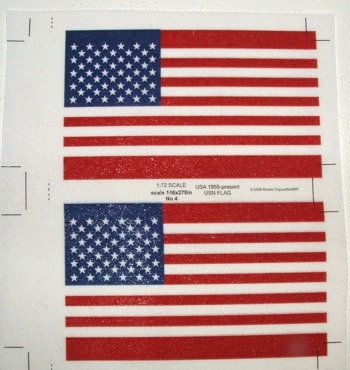 AMP Flags:
CRISP detail superior to others
DOUBLE-SIDED
SEALED for no fray - and WATERPROOF, great for RC

(Very rough handling only causes realistic scale micro sawtoothing, instead of disintegrating cloth fingers)

ACCURATELY researched for proportion, color, and detail

Many scale flags - and full size reproductions - are the wrong proportions! They are based on the 3'x5' size. Though some real flags actually are 3'x5', it is often a "size of convenience" for the manufacturer.

NO "double duty" sizes -

Each AMP Flag size is based on a specific, real size, and is rebuilt for different scales, rather than one flag - wrong for all scales - being used as both a 1:72 submarine flag and a 1:144 battleship flag
Some manufacturers use aproximate sizes that are very wrong for all scales

Professional PRINT INDUSTRY standards used, such as "bleed-to-edge" and trim marks, which mean a higher quality product, and more important, easier for you to use
Every flag kit contains TWO flags (because accidents happen)

When you buy ONE FLAG, it actually comes as TWO flags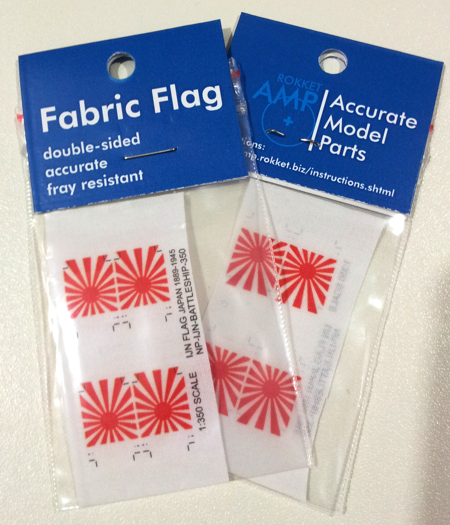 AMP Flag Kit - every kit contains TWO flags, 1:350 contains FOUR flags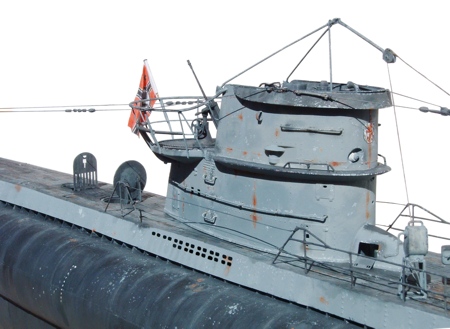 Revell 1:72 VIIC (built by AMP) with AMP Flag, PE, and Waterline Decals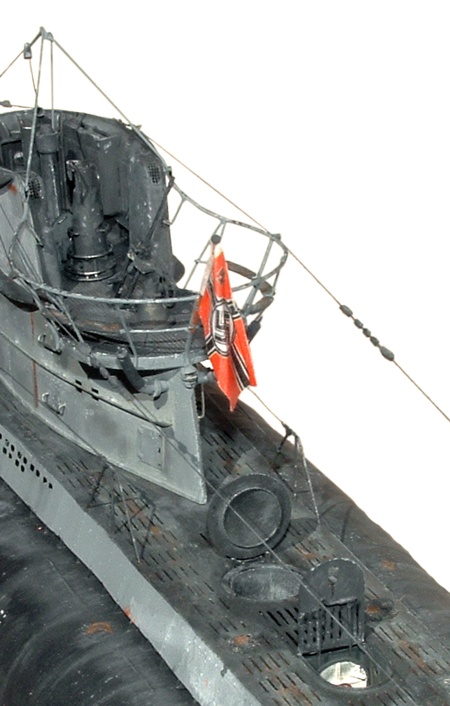 Revell 1:72 VIIC (built by AMP) with AMP Flag, PE, and Waterline Decals
What Customers Say
READ a review at ModelShipwrights (www.modelshipwrights.com)
"Your product is FABULOUS!!! Very good colors, sharp details, a truly splendid result! And your markings make the cutting very easy. You're real pros." M Benneke, Belgium
"I must say that I'm most impressed with the flags I received today! Super job to you and your crew! This will be the one piece to brag about. Thank you again for the prompt communication and professional service." JK
"Just received the flags today and I'm overjoyed! They are absolutely perfect. I can't thank you enough for your time and generosity in making these flags for me." D Quilantan, USA
"They are definitely superior to the "other product", being whiter, brighter, and more robust, as well as being better proportioned!" P McDougald, Canada
"Got the flags a few days ago. Love them, can't wait to get them on." RK
"I am very happy with them. Well reproduced details give them a very realistic look. Once again, thanks." L Wasko
"Yesterday I received the merchandise. WONDERFUL!!!!! Thank you!!!!" J Vilthomsen, Spain
"Just to say your flag is perfectly well printed and no doubt will look just great on my Italeri Schnellboot model. Thank you very much." R Palmacci, France
"They're beautiful! Thanks and it was a pleasure doing business with you." A Villa, Canada
"The flags arrived yesterday. They're terrific!" O Dantchenko, USA
"The flags are great; I do not know how I thought I was going to address that problem without them..." L Hart, USA
"flags are superb." C Ellis, USA
"Your flags are the best!" Mike, Germany