Type VII Tower Floors
Detail Set for Revell Type VII Uboat
CODE
SCALE
TYPE
SUITS
€
BUY
72-03
1:72
Germaniawerft
Revell RV5015
€11.95

72-04
1:72
Mittelmeerturm
Revell RV5015
€11.95
*
32-01
32/35
Mittelmeerturm
OTW, Andrea, Engel, Accurate Armour
€17.95
*
* Contact info@amp-modelparts.biz to order. These are very limited edition only.
Germaniaweft tower floor
The first product - 72-03 - is suitable for Revell's early war Type VIIC U-boat model kit (RV5015). It depicts the unique pattern of square flooding holes present in the rear area of the tower floor on early Germaniawerft boats.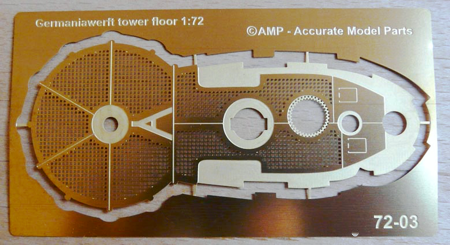 If you are modelling the following boats you will need this tower floor as it is not found on the Revell kit or in other aftermarket sets - U 69, U 70, U 71, U 72, U 93, U 94, U 95, U 96, U 97, U 98, U 201, U 202, U 203 and U 204. It is also likely to have been present upon U 205 to U 212.
Mittelmeerturm tower floor
Mittelmeerturm tower floor72-04 and 32-01 are tower floor sections for the rear part of the Mittelmeerturm tower (also known as the "La Spezia tower") on Type VIIC U-boats. This style of tower featured on 15 boats serving in the Mediterranean theatre.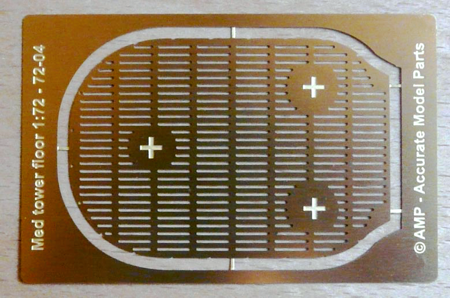 "
More details can be found in our downloadable article: