Detail Set for Revell Uboat VII in 1:72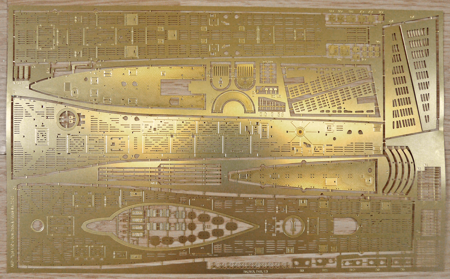 168 parts
AMP set 72-02 is a 168 piece photo-etched brass set designed to correct and improve Revell's 1/72nd Type VIIC U-boat model kit. Our set consists of five deck sections, along with all the required deck details, to allow the entire deck to be replaced. Rather than rely upon inaccurate plans, we have taken great care to rely exclusively upon assessment of period photos to design the deck. Four flood pieces for the hull are also included.
TO ORDER: CLICK "BUY".
Detail Set for Revell Type VII Uboat 1:72
CODE
SCALE
SUITS
€
BUY
72-02
1:72
Revell Type VII
€39.95 + 7.95
---
We believe the AMP VIIC deck design to be the most accurate design to date on the market. The entire deck was designed solely using period photos of real Type VIICs by using a relative slot-to-feature system. More details of how we designed the deck can be found in our instructions. Click here to download instructions (PDF 2mb).
The AMP VIIC deck has several original features or improvements:
Correct slot sizes and distances between slots
The small round holes along the deck edges
The extra "dashed" lines of slots on the deck on either side of the tower
The anti-slip bumps on all the metal deck surfaces
All metal hatches are provided separately so that the slight gap around the hatch can be depicted
The small openings used for the torpedo loading apparatus
Corrected placement of hatches, bollards and deck details
An air identification plate (with authentic placement offset to port) with bolt heads
A full set of strips around the 88mm deck cannon and capstan
Improved pattern of slots around the 88mm deck cannon
Semi-circular holes on the wooden hatches on the aft deck
All the other deck details required to build an accurate deck
Another important feature of the sets is the four "flood" pieces, which correct the deficiencies in the free-flooding vents:
Front floods: the group of floods just behind the forward dive planes (2 pieces)
Rear floods: the group of floods just ahead of the read dive planes (2 pieces)
Our front flood pieces correct the sizing issue not addressed in other sets.
BONUS!
saddle tanks hatch covers
sacrificial anodes
one-piece wooden tower seat for tower
brass nameplate (for first few runs only, see below)

The set includes a 20-page instruction booklet and part identification guide. A scale plan is also included to show placement of saddle tank hatch covers, strips around 88mm and the strips around the capstan.