U-BOATS
ARTICLES by DOUGIE MARTINDALE
( copyright © Dougie Martindale, all rights reserved)
The Wolf Pack: A Collection Of U-Boat Modelling Articles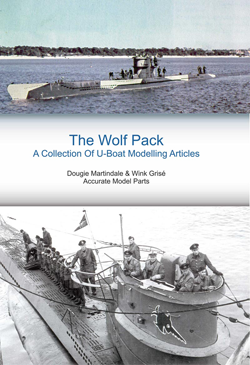 The Wolf Pack: A Collection Of U-Boat Modelling Articles
Presented courtesy of Accurate Model Parts, The Wolf Pack is a collection of research articles by AMP's Dougie Martindale. Each article covers a subject of specific interest to a modeller building the 1/72nd Revell U-boat. Topics range from U-boat colours to insignia to the multitude of modifications made to the Type VII U-boat. Also included is a build article by AMP's Wink Grise*.
Contains:
Kriegsmarine U-Boat Colours & Markings
Type VIIC Free-Flooding Vent Patterns (updated version)
Type VII U-Boat Modifications
The Snorting Bull Insignia
U 96 & The Laughing Sawfish
German U-Boat Victory Pennants
U-Boat Model Kits & Accessories
Super-detailing Revell&rsquos 1/72nd Type VIIC U-Boat*
Revell Type VIIC Checklist
---
Type II U-Boat Modifications & Vent Patterns (2.8Mb)
To assist modellers with the Special Navy Type IIA kit, the main modifications and vent patterns of the Type II are covered in this article. Particular emphasis is paid to the different tower styles as well as the net cutter and railing arrangements on all four sub-variants.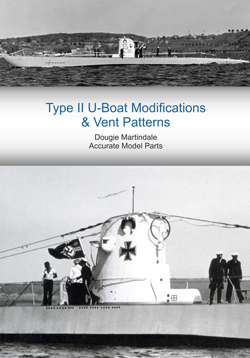 ---
U 201 Remscheid & The Snowman (1.5Mb)
A detailed study of U 201's insignia.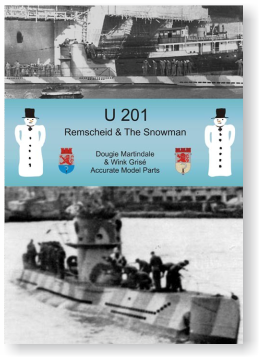 ---
U-Boat Waterline Draught Marks (1.2Mb)
This article discusses the white waterline draught marks on Kriegsmarine U-boats. Drawings of the marks on Type IIs, VIIs and IXs are included to assist customers who have bought AMP waterline decals.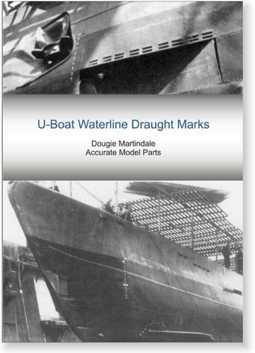 ---
Late War Type VIIC & VIIC/41 Configurations (1.0Mb)
Intended to help modellers choose a late war VIIC or VIIC/41 U-boat, this discusses the Atlantic bow, planked deck, Askania magnetic compass fairing and other late war features. A table which lists all of the VIICs and VIIC/41s in order of launch date is included.
---
List Of U-Boat Modifications & Identification Features (1.0Mb)
These lists are intended to help distinguish modifications and identification features from U-boat photographs. Included are all types of conventional U-boats and some new information not covered previously.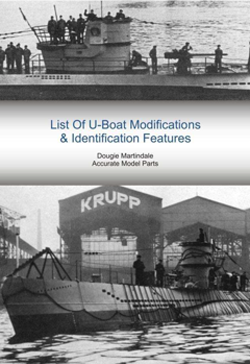 ---
U 505: Modifications, Colour & Insignia (1.4Mb)
In support of the 1/72nd Revell IXC kit (RV05114), this article discusses the modifications of U 505 from launch until the present day. Also discussed are paint colours, emblems, radar warning, countermeasures, damage during capture, and the modifications that the boat would likely have received if it had served until the end of the war.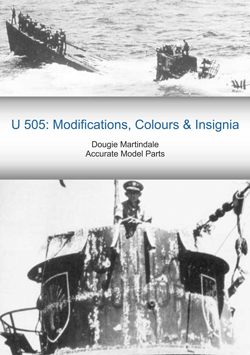 ---
A Guide to AMP U-Boat Decals (1.1Mb)
This article provides an overview of AMP decals.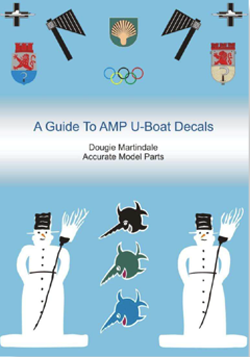 ---
U-Boat & S-Boat Models & Accessories (100kb)
A list of 72nd and 144th scale model kits and accessories for Kriegsmarine U-Boat and S-Boats by Jon Kelly (Capt Kremin on the AMP forum). Also included is a list of paints for Kriegsmarine colours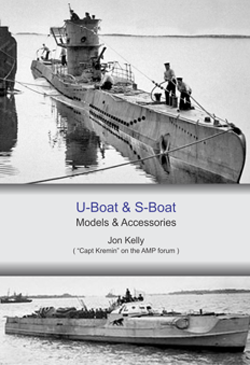 ---
An Illustrated Guide to Uboat Research (6mb)
An amazing collection of original drawings, all meticulously researched and created by talented artist and researcher Simon J. Morris. If you want to build a full-sized uboat that is exacly as accurate as the real thing, download this book!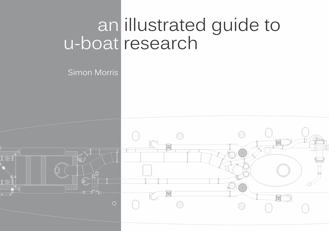 ---
72-01 Type II Upgrade Set INSTRUCTIONS (3mb)
Instruction booklet - AMP Upgrade set for Special Navy's 1:72 scale Type IIA U-boat kit. 28 pages.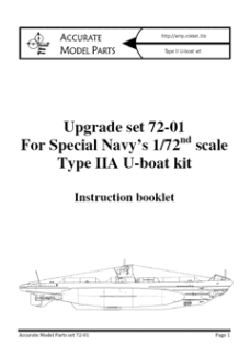 ---
Plan Type II (for 72-01 upgrade set) (2.8mb)
The 1/72nd plan is printed on A2 sized paper. On the plan there is a side profile to allow the modeller to accurately position the AMP parts on the kit hull, a top view of the deck to allow placement of the deck parts, and six tower side profiles.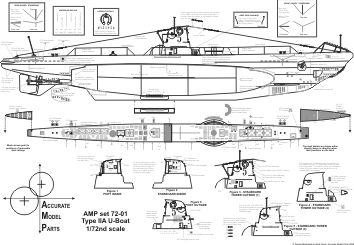 ---
U-BRASS Vent/Flood PE INSTRUCTIONS (680kb)
The instructions to the White Ensign Models "U-Brass" PE kit for the Revell 1:72 VIIC (/41 and B)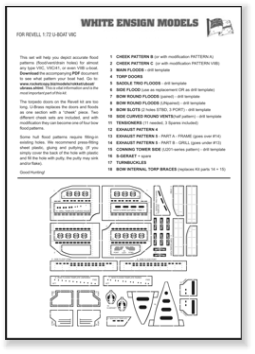 More information and products at www.whiteensignmodels.com
---